Cascade is a range of cast iron effect guttering and downpipe profiles which provides authentic traditional cast iron style in plastic. A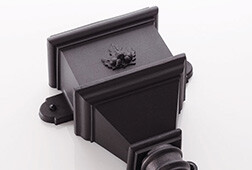 unique patented manufacturing process combines with authentic cast iron architectural detailing on pipe work, fittings and hoppers to give the full appearance of cast iron with all the benefits of modern plastic materials.
In addition to Classic Black, Cascade is available in a choice of heritage colours including Anthracite Grey, Oxford Blue, Olive Green, Graphite Grey, Sandstone and Porcelain White.
Cast Iron Style Rainwater and Soil Systems
Extensive choice of gutter and pipework profiles
Complementary push-fit soil system
Range of traditional hopper designs
Matching Gothic water butt and stand
Quick and easy to install
Lightweight, robust materials
Fully UV stablilised, durable and corrosion resistant
10 year warranty
Contact Us on: 020 8309 6363 for pricing and availability.