Decking Supplier/Composite Boards in Orpington
Elegant, long-lasting decking/composite boards, with
respect for nature
Thanks to its natural appearance, Deeplas Terrace blends in beautifully with natural surroundings and can be used for a wide range of terrace applications. Moreover Deeplas Terrace is easy to maintain, has a high slip resistance for optimum safety and is 100% recyclable.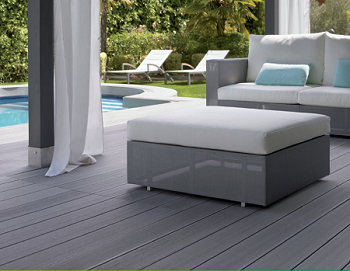 Easy to maintain
Because Deeplas Terrace is made of Twinson, it has the durability and the low maintenance of PVC. Deeplas Terrace retains its strength and gradually obtains a natural patina due to its exposure to the outside elements, without the need for regular painting or staining. The boards do not split, splinter or rot, are UV-stable and resistant to insects. Accidental stains clean up quickly and simple cleaning with a pressure cleaner is all that is required.
High slip resistance
Deeplas Terrace has a grooved wood-brushed finish, which offers a natural design, combined with safety and comfort. It provides high slip resistance, even when wet. What's more, Deeplas Terrace boasts the highest and safest classification for barefoot and rubber sole slip resistance!
Environmentally friendly
Deeplas Twinson-based Terrace has all the advantages of tropical hardwood, and more. While tropical hardwood is only available in the threatened rain forests, Twinson is 100% PEFC-certifi ed. This means that the wood used in Twinson comes from managed sustainable forests. Twinson has a long life expectancy, hence the products that contain it guarantees years of quality service. After their usable life, they can be 100% recycled and reused without loss of quality